Bizmax
Bizmax is the latest money maker wordpress theme from web2feel.com.
This is an elegant theme designed with a nice color scheme and clever placement of ads and banners for you to make more cash out of your blog.
List of Features:
1. Premium theme layout.
2. Multi-level dropdown javascript navigation menu.
3. Featured sliding posts.
4. Site wide customizable 125 x 125 custom banner ads.
5. Adsense: Three adsense units on any given page on the theme. [On the header (460x60), Along with the post (460x60), On sidebar (300x250)]
6. Tabbed content area [Featured Video, Flash tag cloud, Popular Posts]
7. Two widgetized sidebars
8. Optional Currency rate widget
9. Page navigation enabled.
10. WP 2.7 ready, threaded comments
11. Theme support
12. Custom theme option page in the admin panel.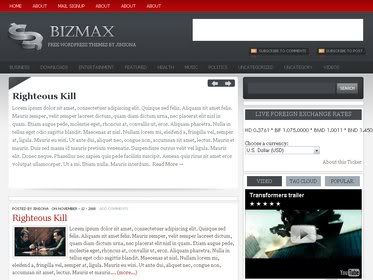 License: Free to use must keep footer intact AS IS

Similar Posts:
Popularity: 4% web directory software
Leave a Reply
You must be logged in to post a comment.